Not for me, but for my sister. And not quite yet-she's due August 20. I hosted a baby shower at my house this past weekend in honor of her and the baby. It was nice, but a bit crazy. We elected to do a floating shower, which must be a regional thing. The shower ran from 2-4pm, and you could float in and out whenever you wanted. No baby shower games-mom, sis, and I all hate them. Why subject ourselves to that? Our guests seemed rather appreciative of it, too, and they seemed to like the open house idea, too. Thankfully, my house has a rather open floor plan, which is very helpful for entertaining.
We sent out invitations about 2 weeks prior to the shower. In an ideal world, I would have liked to get them out a little sooner (maybe a week earlier), but I don't think that it really negatively impacted the shower. I was a loser and did not take a pic of the invitation, but it was really cute w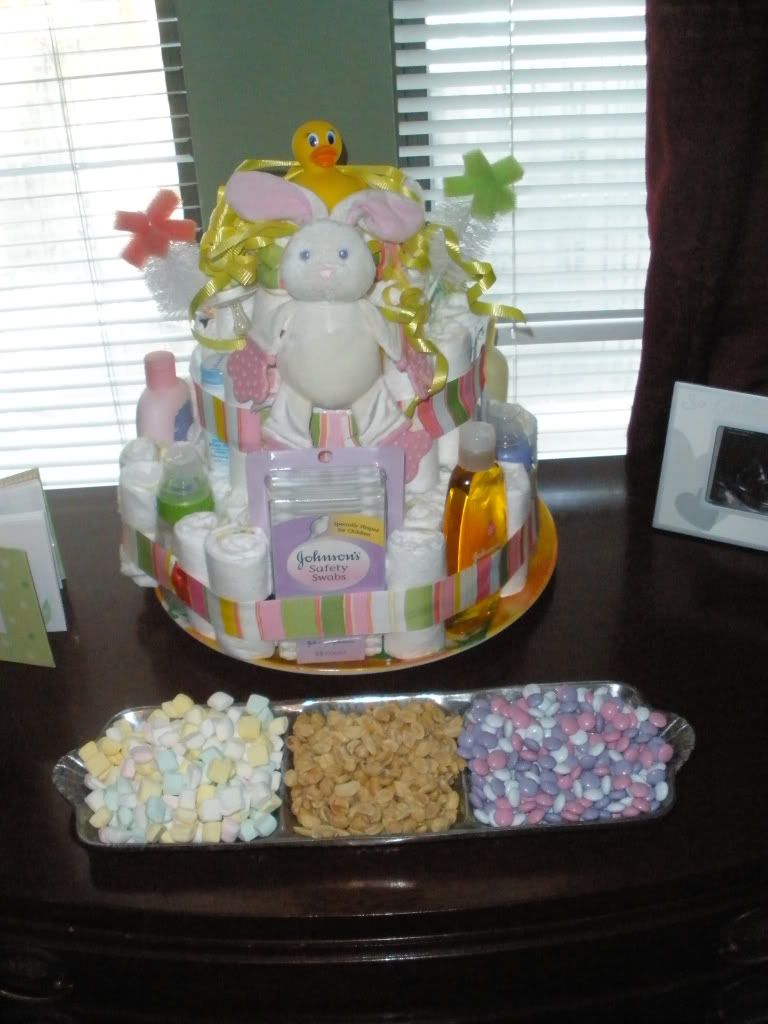 ith pink feet on it. You'll have to imagine it. They were also able to be printed off the computer, making them pretty and convenient.
I was able to prep all the found the day before and just set it all out about 30 minutes before the shower actually began. The only problem was when I opened the veggie tray (yes, I bought one to put on a pretty platter) , the veggies were all rotten. Yuck! The wonderful hubs went out to get more, but my house stank to high heavens.
My favorite project for this shower was the diaper cake I made. More info to come later on that!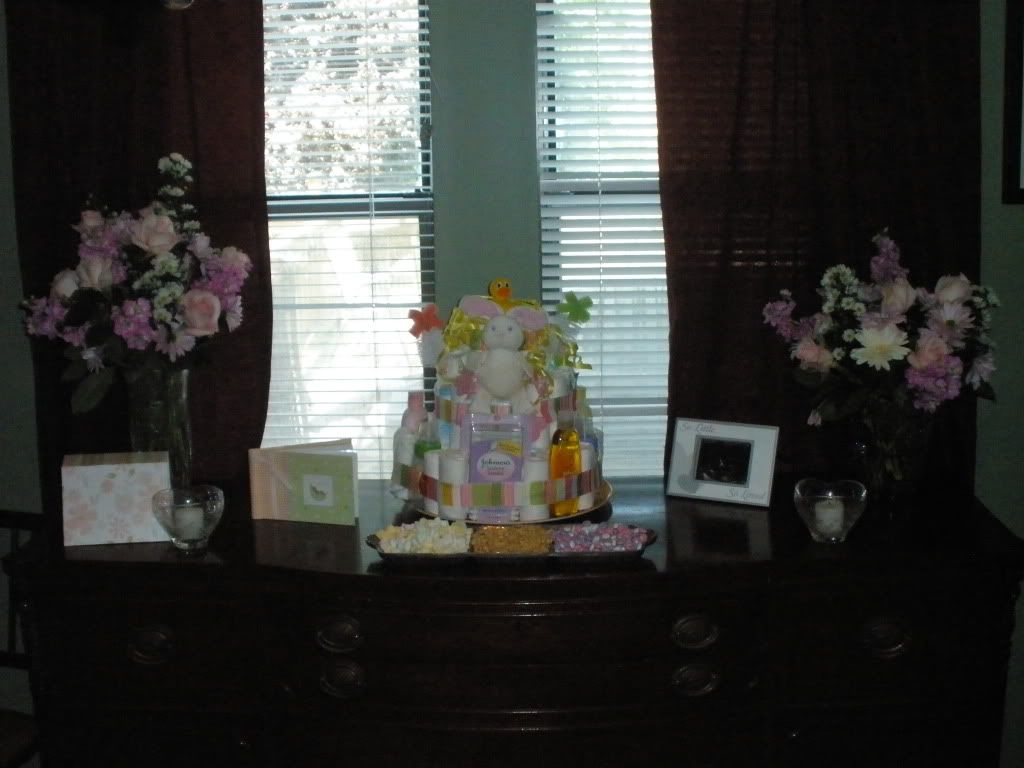 My friend Randy, a professional floral designer, did the flowers. He did a great job, and did the arranging free of charge. (I love having talented friends!)
Our Menu Consisted of:
Fruit (Watermelon, Cantaloupe, Honeydew Melon, Strawberries, Grapes, and Pineapple)
Veggie Tray (Carrots, Broccoli, Green Peppers, Celery, Cherry Tomatoes, Cucumber)
Chicken Salad in Pastry Cups
Chips with Homemade Sour Cream and Onion Dip
Spinach Dip in Bread Bowl with Crackers
Cheese Platter (Cheddar, Pepper Jack, Colby, and Swiss)

Cake!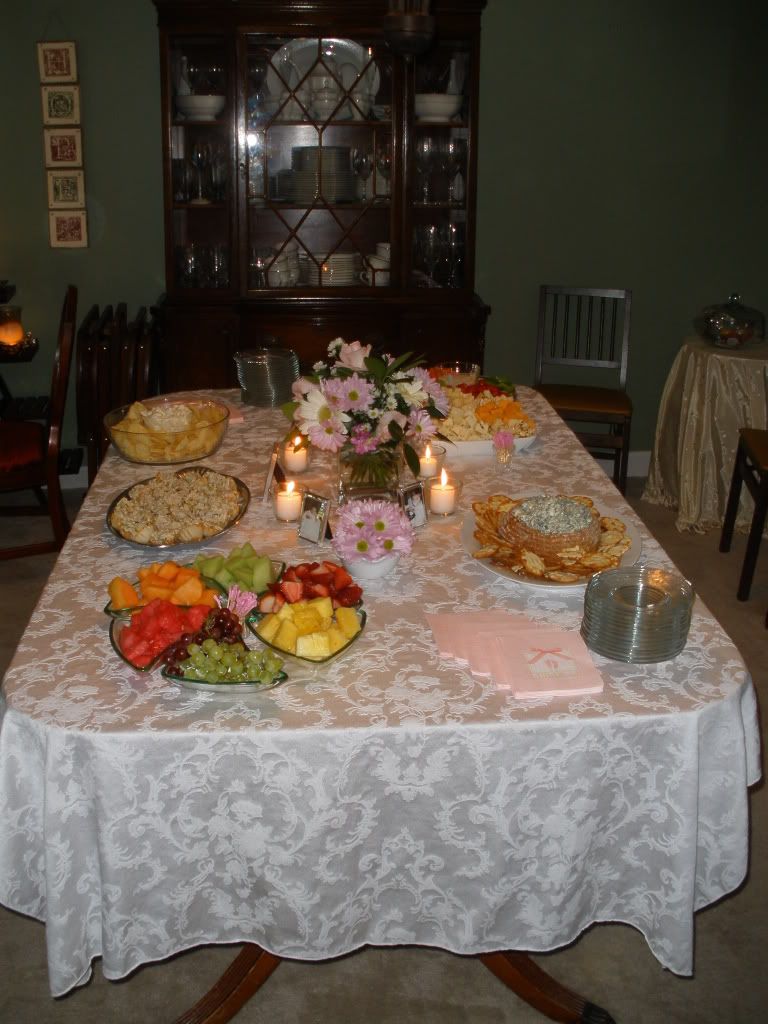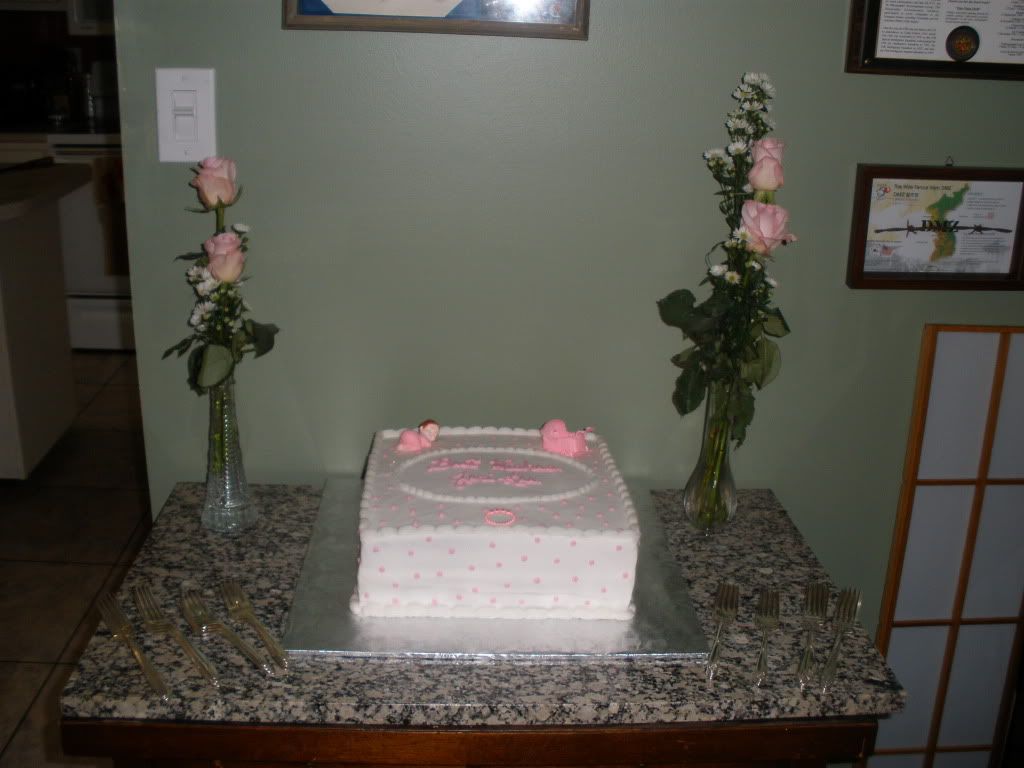 I also had some peanuts, butter mints, and pastel M&Ms with the cake.
It was a lovely party, and that baby will certainly be taken care of. Guests were very generous with their gifts!