***Photo Disclaimer-My digital camera is currently MIA-possibly up at the grandparent-in-laws house. These pictures were taken with a super crappy disposable camera.***
I am finally coming to terms with the fact I have entered a new phases of life. It seems that I am no longer attending weddings and bridal showers every weekend, but now those friends have gone on to start reproducing. So when a close friend of mine that I have known since high school announced she was due in May, I was thrilled to host a shower for her.
Invitations
I love how these invitations turned out. I ordered them from Etsy seller
BunToBaby
. She was great to work with, and the invitations were super cute.
Decorations
I already posted about the diaper wreath and onesie bouquet that I made earlier this month. I also created these blocks that I intended to hang from the chandelier, but they were too big, so they ended up being placed around the room instead. I got four bouquets of flowers from Trader Joe's for $5.99/each. I put 2 yellow bouquets on the sideboard, and then two white bouquets on the table. The mother-to-be's aunt sent a diaper cake which I displayed on the armoire in the living room, which was a cute touch.
Menu
Chicken Salad Croissants
Deviled Eggs
Fruit Platter (strawberries, grapes, and pineapple)
Spinach Dip with Tostito Dipping Chips (I add in a block of cream cheese to the recipe per my friend's recommendation)
Veggie Tray
Cheese platter (cheddar, pepperjack, colby jack, swiss, and red pepper marinated mozzarella)

Chic-Fil-A Nuggets (per mom-to-be's request)

Punch

- The recipe I used called for two parts Sprite to one part white grape juice. I also added in a package of frozen blueberries, which gave it an awesome kick.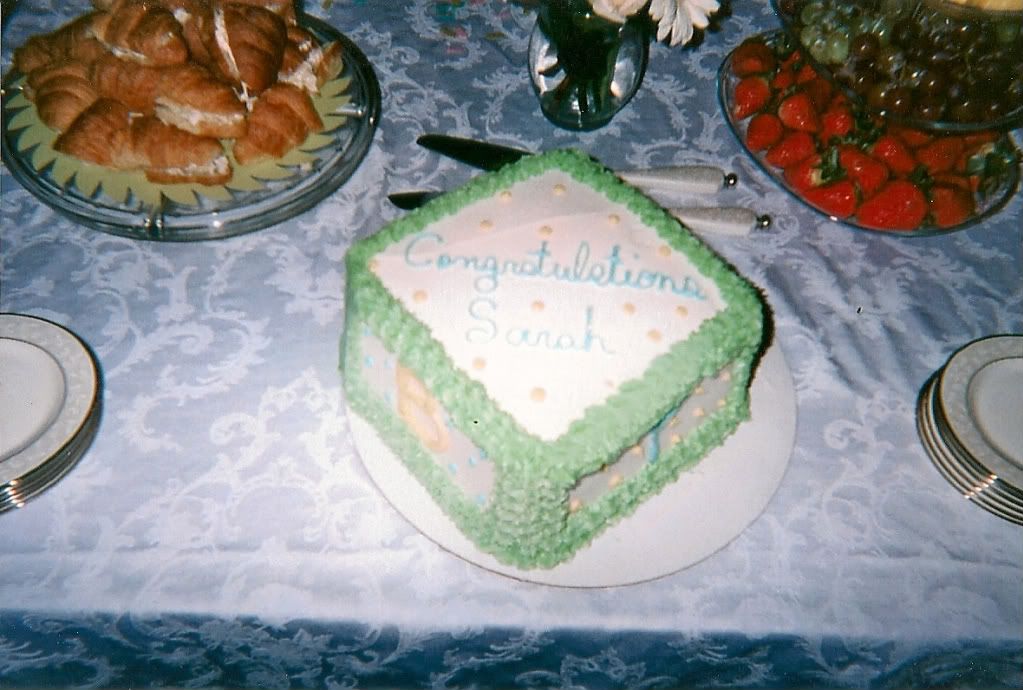 We had a fabulous time. Everyone really seemed to enjoy themselves and the food went over great. The whole afternoon was rather leisurely, which the shower starting at 2, and the guest of honor didn't leave until almost 6PM! She received some wonderful gifts, and now we're all excited to meet her little one in about a month.