Halloween is one of my absolute favorite holidays. Usually, though, I have to work, or we have something going on. This year, though, was a bit different. The hubs and I had a morning commitment, but then the rest of the day was free! Woohoo! A major Halloween Party was in the works.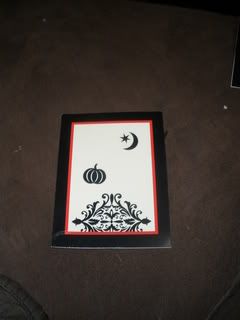 We
started with some invitations…I found these at Michael's for $1 per 8 invitations. I loved them, even though the red and black are not the most traditional Halloween colors. My first thought was that I would find a cool vampire picture to put on the front, playing off the idea of blood with the red. No such luck, but I did find some awesome witch, pumpkin, and cat stickers at Hallmark. I created the inside on through Word, printed them out, plopped some stickers on there, and voila! a lovely invitation.
Next was food. The hubs and I both like to cook…and eat. I wanted our food for the evening, though, to be fun and festive as well as being yummy. Here's our menu for the evening:
Bat Wings aka Chicken Wings
Monster Toes aka Pigs in a Blanket
Mini Caramel Apples
Eyeballs- Mozzarella Balls with olives
Ghost and Witch Hat Sugar Cookies
Haystacks
Deviled Ham Dip
Buffalo Chicken Dip
Spiderweb and Tombstone Cupcakes
Pumpkin Bread
Chips
Chex Party Mix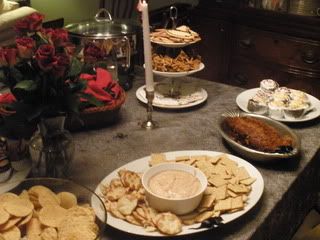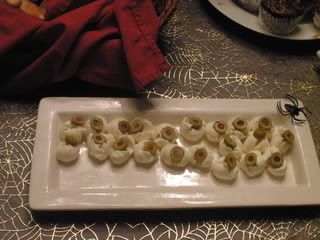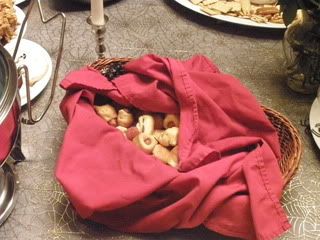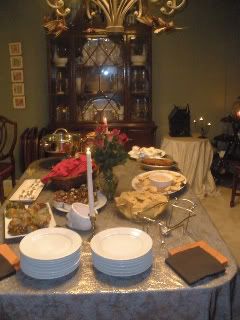 Drinks Inclu
ded
Hot Apple Cider (with rum right next to it for spiking purposes)
Assorted Beer (including pumpkin)

Assorted Wine (with fun, alternative labels)

Assorted Sodas




In addition to all this, I had intended for all guests to leave with a mini favor bag with some Halloween pretzels and assorted traditional candies, but we had had substantially more trick or treaters this year




Finally, we moved on to décor. My outside decorations can be seen here.

Inside, my primary focus was the table. I found this lovely spider web fabric at JoAnn's, which I placed on top of a white table cloth for our food table. I used some plastic spiders and mice to dress things up a bit. My center piece included two tape candles I found on clearance at Yankee Candle that appear to drip blood. They looked cool at first but then they just got goopy. I also picked up some red roses at Trader Joe's which I intended to spray paint black for an eerie, dead effect, but they looked pretty cool staying red.





We added a lot more spider webs and a cloaked figure to our front porch. We used a cheap strobe light and had a CD playing of creepy sounds. I got a lot of compliments from trick or treaters on how "cool" our yard looked...although a few little ones I greeted at the end of the driveway. They were too afraid to come up!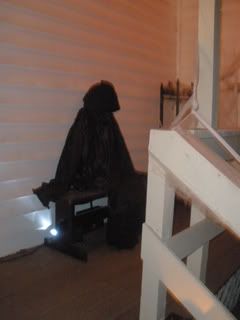 Overall, i
t was a great night and we cannot wait to do it
next year!